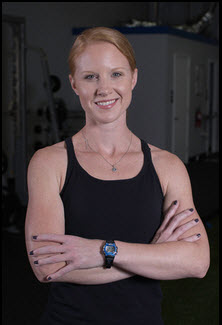 Certified Personal Trainer
Owner, Fit Four Training
Call Caroline Knight
864-354-8000
Reviews
"…She's wonderful as an accountability partner…"
"…she inspires me constantly…"
Caroline began her career as a Personal Trainer in 2007 and has worked with hundreds of clients. She is a Clemson Graduate with a Certification in Personal Fitness training at Greenville Tech. Her passion is to help her clients live a healthier lifestyle through great nutrition and exercise.
She's always been athletic and fitness conscious. She ran track starting in middle school and played basketball. Her father was an athlete – a runner – and both of her parents stressed the importance of fitness in her life. "I'm very thankful for my parents' early influence to stay on track to achieving a healthier lifestyle."
Caroline has served as a personal trainer at five different fitness facilities in the Greenville SC area, one of which she was a co-founder and now is the sole owner of Fit Four Training. At each facility she has worked with men, women and young adults from ages 14 to 82. Caroline specializes in one-on-one and group training, working closely with her clients to teach proper form, balance, and overall awareness of what the body is capable of achieving.